Key Requirements to begin: Item must have a B2B SKU that was created or originated from the B2B Processing program in order to work. Also, please notify RollMaster and the applicable Vendor prior to sending PO Data for the first time to ensure proper setup has been completed.
Once a PO has been created in RollMaster, B2B Processing starts with completing key fields in the Add or Change Purchase Order Screen, marked by red arrows in the screenshot below:
The newest required B2B field is the Shipment Method of Payment. Use the drop down arrow to make a selection from a preset list of shipment methods. When all the fields in the screen are completed, click the Close button– DO NOT click Order. Continue adding applicable lines to the PO, using the Close button each time.
When ready to process, exit to the Purchase Order Maintenance screen of the PO, and click on the Functions menu at the top left of the screen. Select the Generate B2B PO option. The system may take a few moments, but will then prompt a message as follows:

Click OK and wait for the system to contact the B2B Server. Once the PO is sent, the Vendor will send notifications back updating the system with the status of the order.
From the main Purchase Order Processing screen, you can view the status of each B2B PO in the far right column as follows: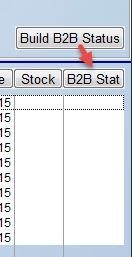 To update codes while in this screen, click the Build B2B Status button. As a reminder for the meaning of B2B Status Codes, click the B2B Status Codes option from the View menu in this same screen. They will appear as follows: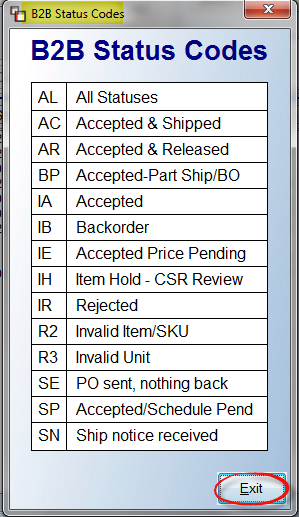 Each PO Line will show status when materials ships in the Status column as follows: