This report module prints a history of any Check Register that has been cleared in the Check Register module. It can be printed by Register Date or Check Date. When you enter this report module, the system will prompt a A/P Check Register History screen as follows: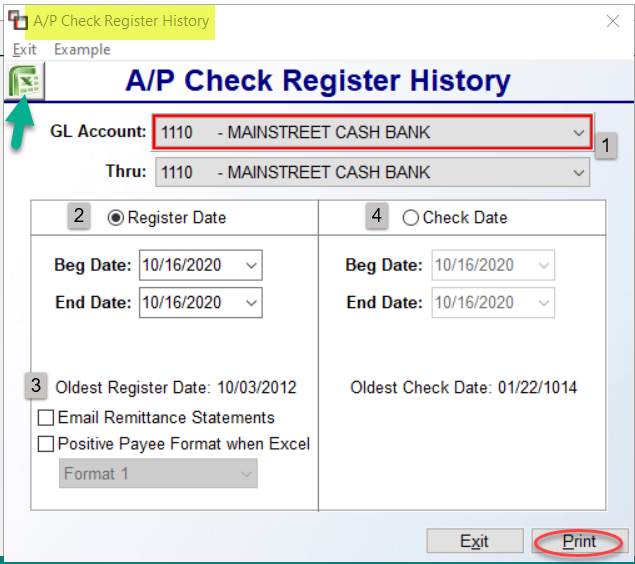 The GL Account & Thru -1- fields will default to the main cash disbursements account number in the system. If checks were printed out of a different account, use the down arrow to select another GL Account before proceeding. If you need history on a register for more than one GL Account, you can select a different account at the Thru field. This screen will default to the Register Date -2- box. To print by date of check, click next to the Check Date -4- field to switch. In either box, you will need to select a Beginning and Ending Date for the item in history. In both boxes, the system will display the dates of the oldest Register and Check in the system. The Email Remittance Statements -3- option has been added to this screen where previously it was only available in Check History for EFT Statements. This works the same as with Check History, where a valid Vendor or A/P Contact Email has been set up and the Register is for EFT Remittance.

The Positive Payee Format when Excel -3- option was added for use with banks that do "positive pay." You can click this prior to exporting to Excel and then upload/email the file to the bank, which only honors checks in that file for security purposes. Please note: formats per bank may vary, which is why multiple Format options are available from the drop-down list. Once you have made your selections, you can click the Excel icon at the top right to export the data to Excel, or click the Print button to continue.