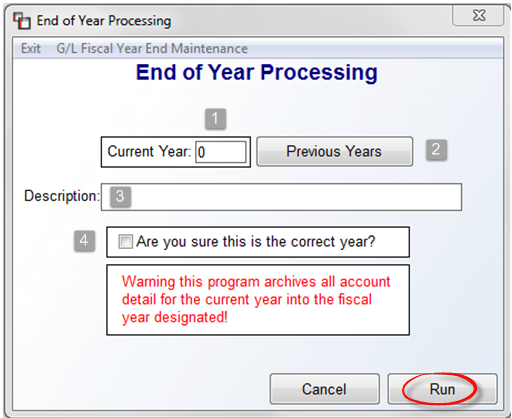 The cursor will be positioned at the Current Year (1) prompt. The system requires you to type in the year you are preparing to close. You can click the Previous Years (2) button to see the history of previous years closed in the system. In the Description (3) field, you can type out the fiscal year data, i.e., 1/1/2013-12/31/2013. Please Note: at the top left of the screen is an option that appears as follows: G/L Fiscal Year End Maintenance. You can use this feature to edit the Descriptions of Previous Years. When you click on this option, the system will prompt a Fiscal Year Ending Maintenance box as follows: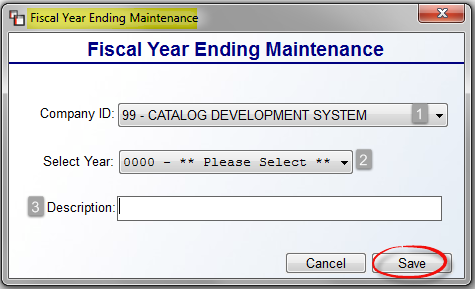 At the Company ID (1) prompt, if applicable, use the drop-down menu to select a different Company. At the Select Year (2) field, use the drop-down menu to select a previous fiscal year for which you would like to edit the description. At the Description (3) field, change or create a new description, i.e., 1/1/2010 – 12/31/2010. Click the Save button to continue. These descriptions will prompt everywhere you access the Previous Year option throughout the General Ledger system.
When you are 100% sure you are ready to close the year, click the box in the Are you sure this is the correct year? (4) field (in the first screenshot above) to proceed. Click the Run button to continue and close the year. Please Note: Once a year is closed it cannot be re-opened and no changes can be made.