This report module prints an audit of all activity in the Open Item Maintenance module, as well as any Recurring Items posted since the last time the report was cleared. It is considered a daily report, only on days where activity has been performed, because it must be run and cleared in preparation for the next day's activity. The end of the report will give you the net effect on the Accounts Payable G/L Account for the day.

When you enter this report module, the system will prompt an A/P Open Item Adjustment Register box as follows: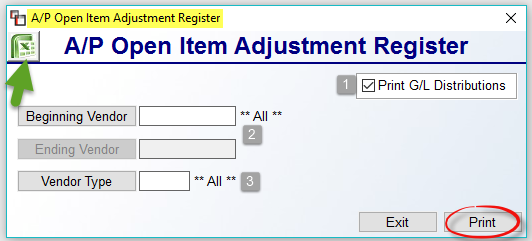 The Print G/L Distributions -1- box defaults to checked. If you leave it checked, for every Item on the report, the system will display each G/L Journal Distribution. This is a good way to double-check that all the entries for the day are correct. The Beginning & Ending Vendor -2- fields will default to **All**, however, if you would prefer to print and clear for a specific Vendor, or range of Vendors, you can use these fields to narrow the selection. The Vendor Type -3- field will allow you to print for a specific Vendor Type. This field is only applicable where you have previously set up Vendor Types in the Vendor Maintenance module. To learn more about Vendor Types, please see the Vendor Maintenance section of this documentation. To export the data to Excel, click the icon at the top left of the screen. Otherwise, click the Print button to continue. Whether printing or exporting, the system will prompt the following: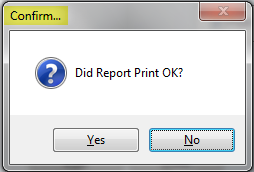 The data will not clear out of the module until you click the Yes button in the Confirm box.

If you click No because you need to regenerate the data, the system will place you back at the first screen to reprint the report. When you click Yes from the Confirm box, the system will prompt an additional: Are You Sure? Click Yes again to clear the report. Please Note: Items that have been deleted will display the Deleted Date on the report, not the original Open Item Date.