This report module prints Statements for Customers with outstanding balances, provided the Statement field in the Customer Maintenance module for those Customers is not set to "N" for no statement. Any Service Charges assessed will also appear on these Statements. If mailing, these statements are designed to be folded and inserted into a #10 left window envelope to display customer mailing address. A custom message can be added via this module, and there are several print options available. When you enter this module, an A/R Statement Print screen will appear as follows: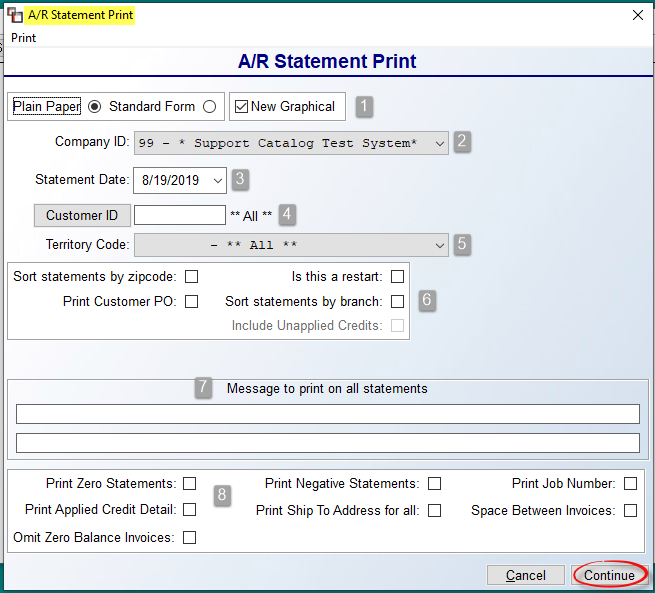 The cursor will be positioned at the Select Form Type (1) box, defaulting to Plain Paper. Leave this default unless you have purchased Standard Forms. For information on these pre-printed forms, please contact the RollMaster Customer Support Team. In addition to Plain Paper and Standard Form, if you have graphical server-side printing available at your location, you can print a Graphical Statement. If you choose a graphical printer upon entering this module, the New Graphical box will be checked by default.
At the Company ID (2) field, leave the default ID, or use the drop-down arrow to select another Company if applicable. The Statement Date (3) field will default to the current date. Use the drop-down calendar to select another date where applicable. The Customer ID (4) field will default to **All** Customers. When applicable, you can use the Customer ID button to select individual Customers. The Territory Code (5) field will also default to **All** Territories. Leave the default or select a specific Territory Code for printing Statements.
The next box (6) contains various print options. Check only those that apply. The Sort statements by zipcode option will group printed Statements together by zip code. The Print Customer PO option will include system PO numbers tied to Invoices appearing on the Statement. The Sort statements by branch option will group printed Statements together by Branch. The Is this a restart option should only be checked if you are re-printing a batch of Statements just printed. This module also has an option to include unapplied credits residing in other Branches, when selecting to print for just one Branch. If you check the Sort statements by branch checkbox, you will have access to one additional checkbox just below as follows: Include Unapplied Credits. This option will allow you to only print for one Branch, but include those items in other Branches on the one Statement.
At the Message to print on all statements (7) section, type a short message to appear on the printed Statements. You can also leave this section blank. Additional print options appear in the box (8) at the bottom of the screen. Check those that apply. The Print Zero Statements should be left unchecked unless you wish to print zero balance Statements. The Print Negative Statements option, if checked, will print Statements for Customers with a credit balance. The Print Job Number option, if checked, will include Job Numbers on the Statement. The Print Applied Credit Detail option, if checked, will show the details of applied credits to a Customer's account. When checked, the format of the Statement will change slightly to show the details of how Open Items were paid. In addition, only the remaining unapplied credit portion will show on the payment lines, as the applied portion is already matched to Open Items. The Print Ship-To Address for all option, if checked, will include all relevant Ship To Addresses on the printed Statement. The Space Between Invoices option, if checked, will skip a line between listed Invoices. And finally, the Omit Zero Balance Invoices option, if checked, will exclude all zero balance items.
Once all of the options have been selected, click the Continue button to begin printing Statements. You can also click the Cancel button to exit this module without printing.
Please Note: If a Customer has Invoices in more than one Branch, a separate Statement will print for each Branch listing only the Invoices posted in that Branch. Also, any Invoices created in A/R Open Item Maintenance with a Branch ID of "**" will also print on a separate Statement. Lastly, if a customer has an overpayment on their account, it will appear as an "**" Branch item.