This module is used to automatically calculate and add service charges to past due Invoice amounts. This module is tied to the Service Charge field in the Customer Maintenance module. As explained in the Customer Maintenance section, that field needs to be set to "Y" for yes in order for a Service Charge to automatically be added to a Customer's account. You should also have entered a percentage amount to charge (e.g., 1.5 percent) and the number of days after the date of invoice a Service Charge should be assessed. Based on that information, the system will determine which Invoices are past due and how much the charge amount should be. When you enter this module, the screen will appear as follows: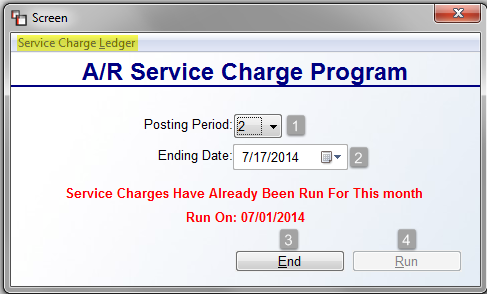 The Posting Period (1) will default to the current open period in the Company General Ledger. The Ending Date (2) field will prompt the current date. Provided this module has not already been processed for the month, you can change the date if applicable. If it has been run, a message will prompt just below the Ending Date field, letting you know Service Charges have already been run and the date they ran. If this is the case, the End (3) button will be available to exit the module. The Run (4) button will only be available if Service Charges have not yet been run. The Service Charge Ledger option at the top left of the screen should be run after Service Charges have been processed. The Service Charge Ledger option will become available as soon as you successfully run service charges for a month. When you click on that option, the system will prompt the following: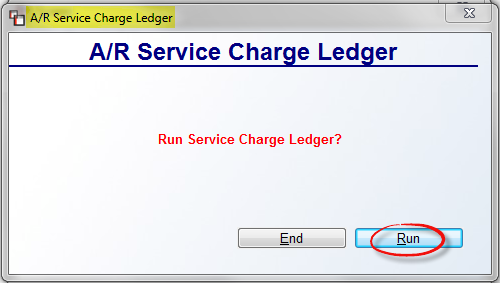 Click the Run button to continue. The system will begin printing and then prompt the following:


To clear the Service Charge Ledger, make sure the report printed okay and then click the Yes button. To reprint, click the No button and enter back into the program. All Service Charges assessed will appear on the Customer's account in the Customer Status Inquiry module and on the Customer's A/R Statement. For all Service Charges the system generates, it will automatically credit the Service Charge Revenue Account and debit the Accounts Receivable Asset Account in the system General Ledger.