In order to access the User Control level and begin creating User ID's, the "User Specific Control" field in the Branch Control 1 level screen needs to be set to "Y" for yes. With this control enabled, each User will be given his or her own User ID Login and have a Custom Menu that will only display those modules necessary for that User to perform his or her job duties. For example, Salespeople will only be able to view and access sales related modules, warehouse personnel will only be able to view and access installation, inventory receiving, and sales processing modules, etc.
For multi-Branch operations, each User needing access to other Branches will need to be copied over once they've been added in the first Branch. Once a new User has been added, the system has the ability to copy/add features to allow set up of staff and corporate personnel in all Branches and Regions (if enabled) quicker. Once a User is added, in the first User Control screen only, you will see two options at the top as follows: (F4) Copy and (F5) Add – To Br. The Copy feature will copy current settings to all other Branches/Regions where the User is currently set up. The Add feature will actually create this User and all settings in other Branches/Regions (see below).
When you hit the F4 Copy key, the system will prompt a Copy Existing Data box as follows:

Type a "Y" for yes to copy a User's settings to all Branches. If you hit enter at this prompt, the system will then prompt the following:

Through this feature, you can copy settings that apply to this User's Custom Menu, to all other Users with the same Custom Menu in either the current Branch or in all Branches/Regions.
When you hit the F5 Add key, the system will prompt the following:

If you type a "Y" for yes at this prompt, the system will prompt a Branch ID field and you can type each Branch to add the User and all settings. You can also type an "R" for Region (if enabled) to automatically add the User to applicable Regions.
With User ID's set up, every User should exit out of the system when they have finished—do not leave the screen at the "Do You Wish To Exit RollMaster software now?" prompt. This is because another User can hit the Home key and access those modules under the previous operators User ID. It is okay to leave the system at the "Enter User ID" prompt.
When you access the User Control menu option from the Select Option menu, the system will prompt another Select Option menu as follows: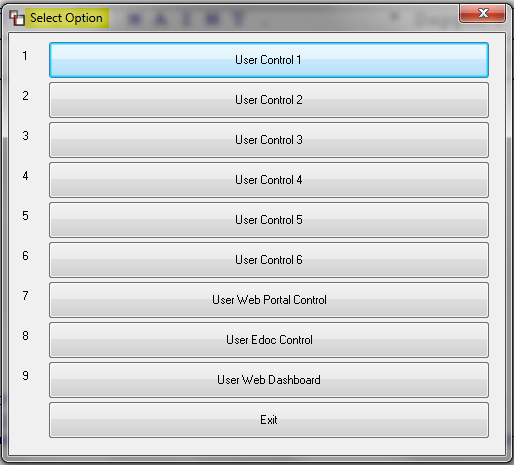 Each of the levels above is explained in full in separate KBA's, or can be viewed in it's entirety in the complete System Control manual.