The Vendor Type Maintenance module allows you to create specific Vendor Types to separate your Vendor Listing into categories such as installer, lessor, vendor, etc., for insurance reporting purposes. It also allows you to designate a 1099 Payment Type to allow for splitting out and totaling different types of payments on the system 1099 printed forms. There are also several A/P modules that can be sorted by this Vendor Type. Those modules are as follows: Payment Selection, Vendor Listing, Open Item Aging Report, Open Invoice Listing and (As Of), Invoice History Listing, Vendor History by G/L Account Number, and the Cash Requirement Report. When you enter this module, the screen will appear as follows: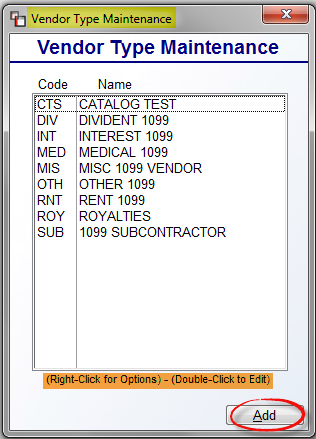 All existing Vendor Types will automatically appear in this screen. To add a new Vendor Type, click the Add button at the bottom right of the screen. A Vendor Type Maintenance screen will appear as follows: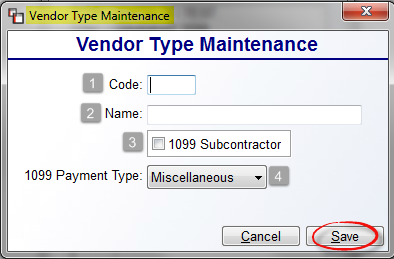 At the Code -1- field, type a 1-3 character code for the new Vendor Type. At the Name -2- field, type the full name description associated with this Vendor Type. If the Vendor Type will require a 1099, click the 1099 Subcontractor -3- box to select that option. You will then need to select a 1099 Payment Type -4- from the drop-down box to complete the setup. The NEC option in the drop-down menu stands for Non-employee Compensation. When you have finished, click the Save button to continue.

Once a Vendor Type has been saved, from the main Vendor Type Maintenance box, you can Edit existing Vendor Types by double-clicking on a selected type or by using the right-click button on the mouse to select the Edit Vendor Type option. The option to Delete a Vendor Type will only be available by using the right-click button on the mouse to select the Delete Vendor Type option. Please Note: If any relevant sales history exists in your system for a Vendor Type Code, you should not delete that code.

Once all Vendor Types have been created, you can then add a Vendor Type to each Vendor in the Vendor Maintenance module. The Vendor Type field is located at the bottom left under the Use Sq. Ft. Pricing field. Once all applicable Vendors have been assigned a Vendor Type, you can then print the Vendor Listing by Vendor Type.